Mustang Mach-E, Roush Mustang, Bronco R, OH MY!
The beginning of a new year brings hope, the setting of resolutions—and a fresh opportunity to complete a Big Year. As in bird watching, this year will have a flock of new Ford to keep your eyes peeled for.
I'll be sharing more details soon, but let's dive right into these new Fords that will be coming to roost at your local Ford dealership in 2020!
The Mustang Mach-E
The 1960s and the 2020s come smashing into each other with this new SUV—the classicly popular Mustang and newly developed electric vehicle technology. And WOW does the Mach-E ever look stylish!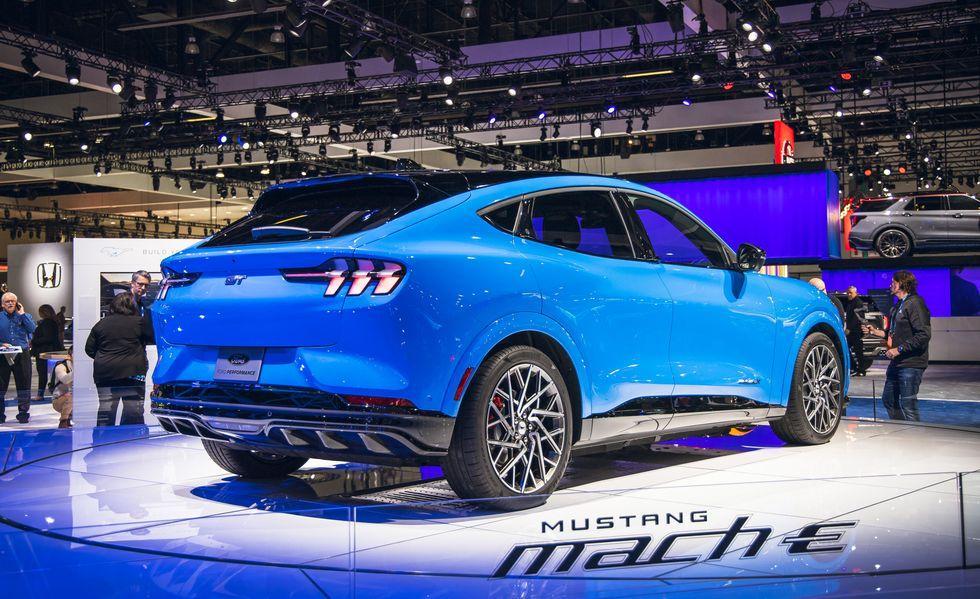 Purists are going to be after us for using the Mustang moniker for an electric vehicle, but to be fair the GT model is pumping 459 horsepower and 612 lb-ft of torque to the wheels. And all while getting about 380 kms per charge. Personally, I think the biggest benefit to the Mach-E over any of its competitors is getting to deal with Wayne Pitman Ford for your service needs, rather than the unknown service quality that many customers have noted as their reason they've avoided some of the newer electric auto makers.
If you're not quite ready to make the leap to fully electric, we do have a considerable line up of
hybrid gas-electric Fords
still!
The Ford Bronco
In spring 2020, the Ford Bronco will be back by popular demand! If you've seen Ford v Ferrari, then you know the 1960s was a great time for Ford's racing history. But did you know that the Bronco was put to the test in 1969? Legendary off-road driver Rod Hall won the Baja 1000 that year in a Ford Bronco—and remains the only person to ever complete the grueling long-distance desert race in a 4 wheel vehicle!
Take a peek at this video which came out to announce the upcoming release of this Ford truck!
We don't know all the details yet, but rest assured the Ford Bronco will be a boxy, retro affair with some of the style and character of the original truck. What do we know for sure?
The Jeep Wrangler is the obvious competitive target, and as such the Bronco will have removable doors, a rear-mounted spare tire, boxy styling, and a healthy dose of legitimate off-road capability. A
turbocharged 2.3-liter four-cylinder engine
is slated to be the base engine (from the
current Ford Ranger
), with a V-6 and a hybrid option also being offered.
As soon as I have more details, I'll get them out to you all! Needless to say, I'm pumped for the 2020 Ford Bronco!
Roush Mustangs are coming to Wayne Pitman Ford!

I know a picture is worth 1000 words, but I'll give you a few words to summarize this high performance Mustang.
A ROUSH Phase 1 Supercharger to produce an unprecedented 710 horsepower and 610 lb-ft of torque.
The Active Exhaust System, which lets you control how loud the car is: stealth mode or race mode!
Roush Exterior performance package, increasing performance and looks.
Roush Interior package, giving you an aggressive cockpit feel.
I don't want to spoil it all now, but Jack Roush's Mustang strikes an exceptional balance between fun street Mustang and powerful race monster.
2020 Ford Transit Van

But its high time for an updated model! The 2020 brings a host of technology options, as well as new engines, to the Transit.
Many of the best Co-Pilot 360 options from our passenger vehicles are now available.
All-Wheel Drive is new for 2020, which is great for any work or job sites.
An optional power-sliding door.
You now have 3 options in engine choices: 3.5L V6, 3.5L V6 Ecoboost and 2.0L Inline 4 Diesel.

So, keep your eyes open for new Ford's showing up throughout 2020! Missing anything would be unpheasant and hawkward! (Sorry, I'm really not sure why we're doing bird puns.)